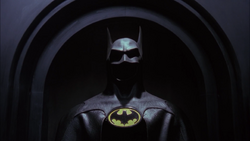 The first variation of the many batsuits worn by Bruce Wayne.
This is the first known batsuit created by Wayne. Next to nothing is known about the materials used or how it was made. It was created after studying many different types of from cultures all over the world.
Throttling Nick & Eddie
Edit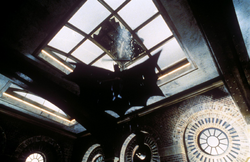 Behind the Scenes
Edit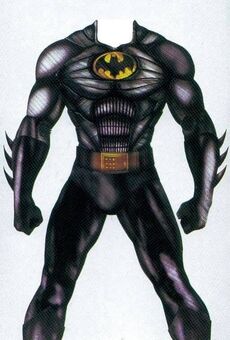 Design concept
Edit
Costume designer Bob Ringwood found it difficult designing the Batsuit because "the image of Batman in the comics is this huge, big six-foot-four hunk with a dimpled chin. Michael Keaton is a guy with average build", he stated.[1]
Sculpting
Edit
The cowls and bodysuits were sculpted by Vin Burnham.
The capes were made by "rubber specialist" Paul Barrett-Brown.
The chest emblems and buckles were created in aluminum by Tony Dunsterville, then molded in silicone and finally cast in epoxy resin.[2]
Paul Barrett-Brown also made the belts. The belt itself was made out of a material used to mend baggage carousels at airports.[3]
Nike made the boots based on Air Trainer III. The boots they sent featured a bright yellow swoosh logo which was painted over in black.
References
Edit
↑ Batman-On-Film - INTERVIEW: Vin Burnham November 27, 2009 by Paul Wares - "The emblem and belt buckles were being machined in aluminum before being molded in silicone and cast in epoxy resin."
↑ Creative Spotlights VIN BURNHAM - INTERNATIONAL AWARD-WINNING COSTUME AND CREATURE DESIGNER - "The belt was made out of a material used to mend carousels at airports. [...] Tony Dunsterville who machined the belt buckles and emblems in aluminium before casting them in resins."
External links
Edit
Ad blocker interference detected!
Wikia is a free-to-use site that makes money from advertising. We have a modified experience for viewers using ad blockers

Wikia is not accessible if you've made further modifications. Remove the custom ad blocker rule(s) and the page will load as expected.