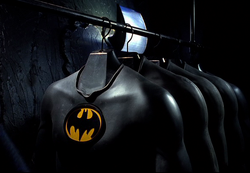 The second variation of the many batsuits worn by Bruce Wayne. By this this time he began to mass produce spares of the same suit. It also noticeably bares less of a resemblance to human anatomy, as all other variations of the standard suit do.
Despite a more heavily armored look elsewhere, it was the first suit to lack the metal plates on the gauntlets, and the last to feature shin guards on the boots. The original brass utility belt was still worn on this suit.
Behind the Scenes
Edit
Design concept and sculpt
Edit
The costume's overall design and construction was overseen by Bob Ringwood and Mary Vogt. The body was sculpted by Steve Wang and the cowl by Jose Fernandez. Vin Burnham and Paul Barrett-Brown also returned as advisors. Several alternate cowl designs were done by Steve Wang, some of which were used on stuntsuits sculpted by Alli Eynon.
Nike footwear
Edit
The boots were made by Nike once again, this time based on Air Jordan VI.
References
Edit
External links
Edit
Ad blocker interference detected!
Wikia is a free-to-use site that makes money from advertising. We have a modified experience for viewers using ad blockers

Wikia is not accessible if you've made further modifications. Remove the custom ad blocker rule(s) and the page will load as expected.