"He gave us a Singal."
―James Gordon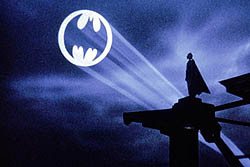 The Bat-Signal is a distress signal device to draw Batman. It is a specially modified Klieg searchlight with a stylized symbol of a bat attached to the light so that it projects a large Bat emblem on the sky or buildings of Gotham City.
The signal is used by the Gotham City Police Department as a method of contacting and summoning Batman to their assistance in the event of a serious crisis and as a weapon of psychological intimidation to the numerous villains of Gotham City.
Batman gives the signal to the police after the death of The Joker as a gift so that when he is needed they can summon him.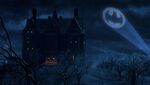 Bruce has miniature Bat-Signals stationed up around Wayne Manor as a beacon to call him. It is only used when Commissioner Gordon needs his help when the Red Triangle Circus Gang attack Shreck Plaza in the lead up to Christmas.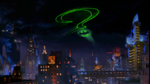 The criminal psychologist Dr. Chase Meridian uses the Bat-Signal to call Batman, in order to seduce him. Batman is slightly peeved at her usage of the Bat-Signal as a mere "beeper". Later, the Riddler alters the Bat-Signal by projecting a question mark into the sky with the first symbol forming the dot at the base.
Poison Ivy alters the Bat-Signal by changing it to a "Robin-Signal" to lure Robin into a trap.
Ad blocker interference detected!
Wikia is a free-to-use site that makes money from advertising. We have a modified experience for viewers using ad blockers

Wikia is not accessible if you've made further modifications. Remove the custom ad blocker rule(s) and the page will load as expected.