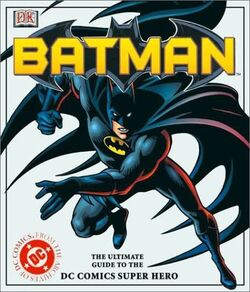 Batman: The Ultimate Guide to the DC Comics Superhero is a guide by DK Books first published in 1995. It has been "revised" several times with the new title, "Ultimate Guide to the Dark Knight" featuring Jim Lee's depiction of Batman on the cover each time for unknown reasons.
Several cross section illustrations of objects from the Anthology are used, like the brass utility belt and the Batmobile. The utility belt is used to represent Batman's belt in the comics, though he never actually ever wore the belt from the first two films. The cross section also displays inaccurate functions of the belt and its storage capabilities. For instance, the buckle in the film is shown to split in half when unbuckled. But as displayed in DK's Ultimate Guide, the entire faceplate of the buckle opens up to reveal some kind of gadgetry underneath. The belt is also portrayed with eight capsules rather the film's four. The capsules contain things other chemical weapons as seen the production art of Returns. DK's belt opens up in panels on the actual belt between the capsules, the film belt has never been shown or described to do this.
The Batmobile cross section however, is fairly accurate to what's seen the films.
Ad blocker interference detected!
Wikia is a free-to-use site that makes money from advertising. We have a modified experience for viewers using ad blockers

Wikia is not accessible if you've made further modifications. Remove the custom ad blocker rule(s) and the page will load as expected.