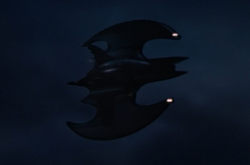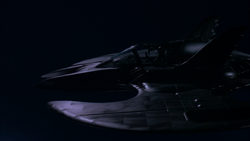 The Mark I Batwing was Batman's original flying vehicle. Much like the original Batmobile, the Batwing was armed with heavy artillery and explosives.
Years later a redesigned version was created with the organic "ribs" motif, exposed innards aglow with blue neon to match the Mk II Batmobile.
It is unknown when Bruce belt the Batwing or how exactly it was constructed.
Behind the Scenes
Edit
Conceptual design
Edit
David Russell did several unused concepts for the Batwing. It is unknown who did the final design, credit presumably goes to production designer Anton Furst.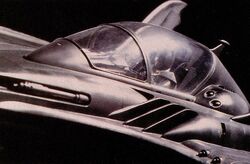 The construction and filming of the Batwing model was overseen by Derek Meddings.
Cockpit interior
Edit
A full scale cockpit was built to film with Michael Keaton inside. The cockpit was rocked in front of blue screen to achieve the desired effect. B-roll footage of the filming of these shots can be seen in the vintage Making of a Hero documentary.
Full scale crashed Batwing
Edit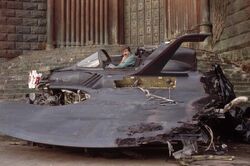 References
Edit
External links
Edit
Ad blocker interference detected!
Wikia is a free-to-use site that makes money from advertising. We have a modified experience for viewers using ad blockers

Wikia is not accessible if you've made further modifications. Remove the custom ad blocker rule(s) and the page will load as expected.