A "Diamond Luxe" version of the 2009 blu-ray disc was released in 2014. This version came wit a second disc that contained only one new bonus feature, Batman: The Birth of the Modern Blockbuster. It was advertised as some kind of commemorative anniversary release, though nothing on the packaging indicates that is anything more just one of WB's many Diamond Luxe titles.
It was also advertised in press releases and retailers with the second disc having two additional features, the long awaited home video release of Batman: The Making of a Hero and something called Batman Reunited. Why WB chose not to include these in final release is unknown.
Controversy
Edit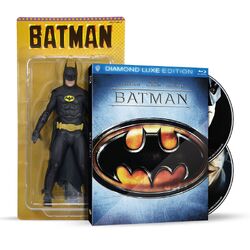 Fan reaction to every aspect of the release has been universally negative.
Ad blocker interference detected!
Wikia is a free-to-use site that makes money from advertising. We have a modified experience for viewers using ad blockers

Wikia is not accessible if you've made further modifications. Remove the custom ad blocker rule(s) and the page will load as expected.