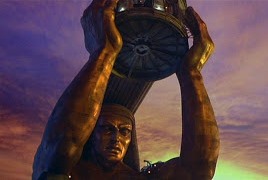 The Gotham Observatory is a large statue like structure in central Gotham City. The building resembles that of the character Atlas from Greek mythology.
The observatory was broken into by Mr. Freeze, with the help of Bane, who used the powerful telescope to magnify diamond energy to freeze Gotham solid using Mr. Freeze's technology. However the pair were stopped by Batman, Robin and Batgirl.
Ad blocker interference detected!
Wikia is a free-to-use site that makes money from advertising. We have a modified experience for viewers using ad blockers

Wikia is not accessible if you've made further modifications. Remove the custom ad blocker rule(s) and the page will load as expected.