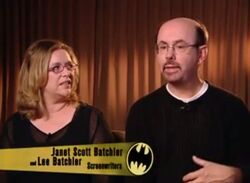 "I had read Batman comics as a little girl, but stopped when I was at college. He was always the superhero that I related to as a kid. So, it was sort of fun to pick it up again. " — Janet Scott Batchler[citation needed]
Janet Scott Batchler is the co-writer of Batman Forever story and screenplay, along with his husband Lee Batchler. Their screenplay was later revised by a new writer, Akiva Goldsman. Goldsman was not approved by the film's original producer, Tim Burton.
External links
Edit
Ad blocker interference detected!
Wikia is a free-to-use site that makes money from advertising. We have a modified experience for viewers using ad blockers

Wikia is not accessible if you've made further modifications. Remove the custom ad blocker rule(s) and the page will load as expected.