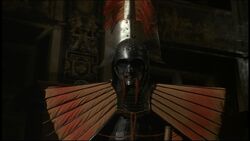 Japan is a country that Bruce Wayne has been to study and acquire armor for his collection.
Behind the Scenes
Edit
The Japanese armor like everything else in Wayne Manor's armory was designed by Anton Furst and Tim Burton.
It is implied that Wayne acquired more than just armor while in Japan, as he employs Shurikien and Ninjutsu skills as Batman.
Ad blocker interference detected!
Wikia is a free-to-use site that makes money from advertising. We have a modified experience for viewers using ad blockers

Wikia is not accessible if you've made further modifications. Remove the custom ad blocker rule(s) and the page will load as expected.