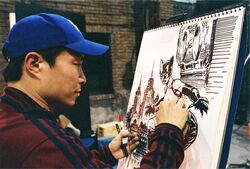 Jim Lee is a comic artist and co-publisher of DC Comics. Lee was paid to visit the set of the Catwoman movie and sketch Halle Berry in her costume. This was done to alleviate fan outrage over the changes to the character. Lee also also pencilled the cover to the comic adaptation.
For reasons unknown, Lee has yet to illustrate any other Anthology character.
Ad blocker interference detected!
Wikia is a free-to-use site that makes money from advertising. We have a modified experience for viewers using ad blockers

Wikia is not accessible if you've made further modifications. Remove the custom ad blocker rule(s) and the page will load as expected.