Two Joker Goon Cars were used by Joker's goons.
Behind the Scenes
Edit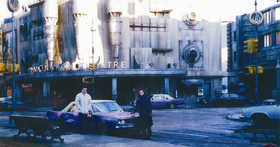 Two identical Dodge 3700 GTs and one Chevrolet Malibu were provided by Christian Wolf-La'Moy. Wolf-La'Moy acquired the cars in Alicante, Spain.
One of the cars was badly damaged in a stunt while the other is still owned by Wolf-La'Moy to this day.
Promotional material & merchandise
Edit
AMT released a model kit of the Joker Goon Car that could alternatively be built as a GCPD cruiser.
Legacy & modern merchandise
Edit
AMT has rereleased the same kit with different packaging.
In 2013, Johnny Lighting released a unlicensed die-cast car that is obviously based the Joker Goon Cars.
References
Edit
External links
Edit
Ad blocker interference detected!
Wikia is a free-to-use site that makes money from advertising. We have a modified experience for viewers using ad blockers

Wikia is not accessible if you've made further modifications. Remove the custom ad blocker rule(s) and the page will load as expected.