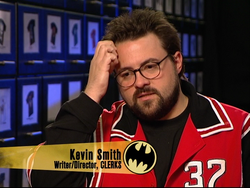 Kevin Smith is a writer/director, comedian and comic book writer. Interview segements of Smith are used in the 2005 dvd releases. Smith also wrote a script for Superman Lives before Burton joined the project and hired Wesley Strick to realize his vision. Smith will appear in The Death of "Superman Lives": What Happened? to once again discuss working with Jon Peters.
Smith hosts a Batman podcast called 'Fatman on Batman' and remains hopeful that he will be able to interview Anthology veterans like Michael Keaton, Sam Hamm, Daniel Waters, and Wesley Strick.
References
Edit
External links
Edit
Ad blocker interference detected!
Wikia is a free-to-use site that makes money from advertising. We have a modified experience for viewers using ad blockers

Wikia is not accessible if you've made further modifications. Remove the custom ad blocker rule(s) and the page will load as expected.