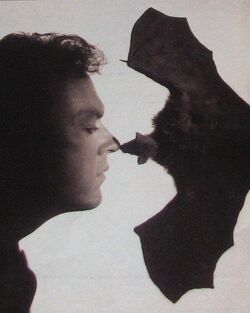 Mark Hanauer is a photographer that shot Michael Keaton for the Entertainment Weekly cover story, Masked Man in 1992.
Hanhauer' shoot included portraits of Keaton with Bats and silhouette of the cowl on the 2nd Batsuit for the cover.
Ad blocker interference detected!
Wikia is a free-to-use site that makes money from advertising. We have a modified experience for viewers using ad blockers

Wikia is not accessible if you've made further modifications. Remove the custom ad blocker rule(s) and the page will load as expected.