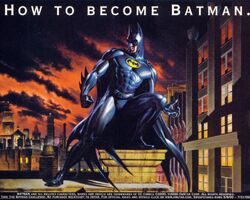 OnStar, a automotive security, navigation and diagnostics company, created a marketing campaign based around the original Batmobile from 2000 to 2002. The primary part of the promotion was a series of six television commercials featuring Batman, using a costume, actor and vehicle from the Tim Burton/Joel Schumacher Batman film series (Batman Anthology) There was also a series of promotional images in magazines and websites.
Two of the commercials ("Hot Date" and "Riddle Me This") were directed by Vincent Ward, and the other four were directed by Andrew Davis, working with DoP Thomas Kloss. Michael Gough, who portrays Alfred in the films, reprises his role in the OnStar ads.
Ad blocker interference detected!
Wikia is a free-to-use site that makes money from advertising. We have a modified experience for viewers using ad blockers

Wikia is not accessible if you've made further modifications. Remove the custom ad blocker rule(s) and the page will load as expected.