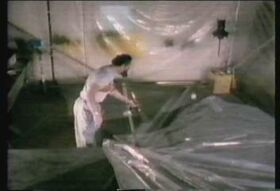 "The crotch, is always a problem."
―Paul Barrett-Brown
Paul Barrett-Brown is a "rubber specialist" that created the capes for the original Batsuit. He also worked on Batman Returns and assisted with all three principal character costumes.
He was not interviews for 2005's Shadows of the Bat: The Cinematic Saga of the Dark Knight.
Ad blocker interference detected!
Wikia is a free-to-use site that makes money from advertising. We have a modified experience for viewers using ad blockers

Wikia is not accessible if you've made further modifications. Remove the custom ad blocker rule(s) and the page will load as expected.