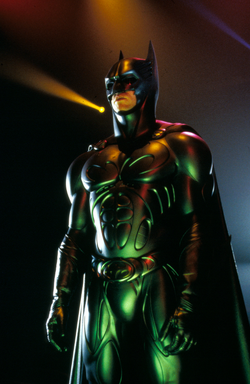 The Sonar Batsuit was a specialty Batsuit with different functions and a vastly diffrent look from the standard suit. It was used on Claw Island to defeat the Riddler. The sonar suit had not yet been field tested and chosen because the Riddler had destroyed all other suits in the vault
The Arctic Armor Batsuit featured a very similar cowl and chest emblem.
Behind the Scenes
Edit
The suit was designed and sculpted by Jose Fernandez
Influence
Edit
The movie Batsuits have taken after the philosophy of the Sonar Suit since its use in Bataman Forever. They usually feature a large all black bat emblem that covers most of the chest. The torso and limbs feature complex "high-tech" looking designs.
A black version of the Sonar Batsuit was used during auditions for Batman Begins.
The Sonar Suit the first movie Batsuit to feature high tech lenses on cowl like in the comics. Lenses were attempted again in the 2008 sequel to Batman Begins.
References
Edit
External links
Edit
Ad blocker interference detected!
Wikia is a free-to-use site that makes money from advertising. We have a modified experience for viewers using ad blockers

Wikia is not accessible if you've made further modifications. Remove the custom ad blocker rule(s) and the page will load as expected.