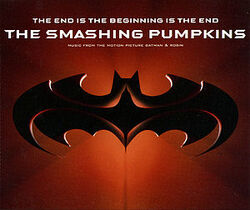 "At one point I found myself going, "I can't write a song about Batman, I'm in an alternative band." And I thought this is stupid, if I can write a song about Batman and it serves the purpose, which is to make it happen and connect with the movie, and connect with something that is unique and original, then, why not? For me, it was a great kind of artistic thing to do because it was very freeing. I wasn't talking about myself or trying to represent the Smashing Pumpkins. I was trying to represent Batman." — Frontman Billy Corgan about the song.
"The End Is the Beginning Is the End" is a song by alternative rock band The Smashing Pumpkins from the album Music from and Inspired by the Batman & Robin Motion Picture. It was written by the frontman Billy Corgan. The song was more successful than the film itself, winning a Grammy Award for Best Hard Rock Performance at the 40th Grammy Awards.
Music video
Edit
Directed by Jonathan Dayton and Valerie Faris, with Joel Schumacher's input, the music video for this song features the members of The Smashing Pumpkins in Batman-like costumes, floating in front of images from Batman & Robin.
The music video appears on the second disc of the Batman and Robin: Special Edition DVD (also on the Batman: The Motion Picture Anthology 1989–1997 DVD boxset 8 disc version), released in October, 2005.
References
Edit
Ad blocker interference detected!
Wikia is a free-to-use site that makes money from advertising. We have a modified experience for viewers using ad blockers

Wikia is not accessible if you've made further modifications. Remove the custom ad blocker rule(s) and the page will load as expected.